Vista Mar Condominiums & Hotel Cocal & Casino
The Vista Mar Condominiums and the Hotel Cocal are beachfront with the Vista Mar Condominiums located behind the Hotel Cocal (located in the JPZ a.k.a. Jaco Party Zone) on the same huge property. Note all the condominiums have beach views above the second floor. Downtown and the main street are about a 1 minute walk away where you will find everything from a ton of restaurants and bars, shopping, pharmacies, grocery stores, banks/ATMs, liquor stores, ice cream and coffee shops, and so much more.
The amazing views, location, casino, and party friendly surroundings make the Vista Mar Condominiums and the Hotel Cocal the absolute best choice for a vacation rental in Jaco Beach if guests want to mix both daytime beach fun and nightlife into their vacation.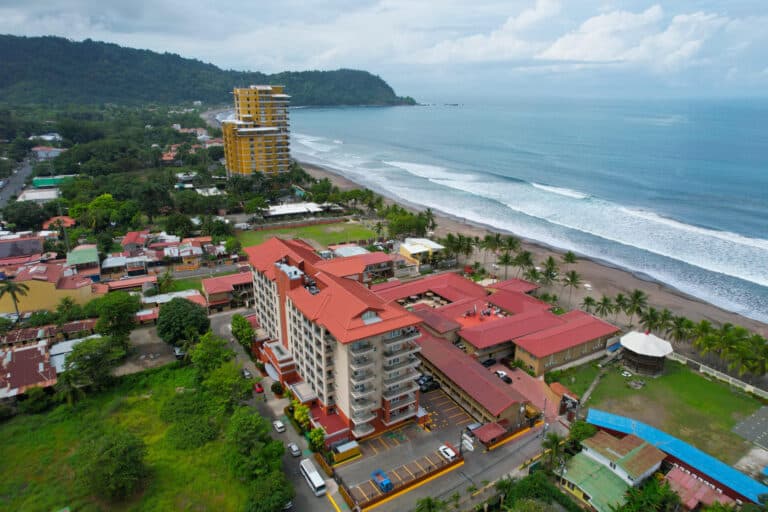 Vista Mar Luxury Beachfront Condominiums
The Vista Mar Upscale Penthouses & Condominiums are located just a few steps from the Hotel Cocal and cinnamon sands of Jaco Beach. The condominiums offer big and roomy beachfront accommodations with nice furnishings, artwork, and stylish decor. All of the condominiums include 24 hour security, daily cleaning, spacious balconies, air-conditioning, safes, and a large swimming pool for the Vista Mar clients only. You also get access to all the Hotel Cocal amenities too which is a great bonus for your vacation.