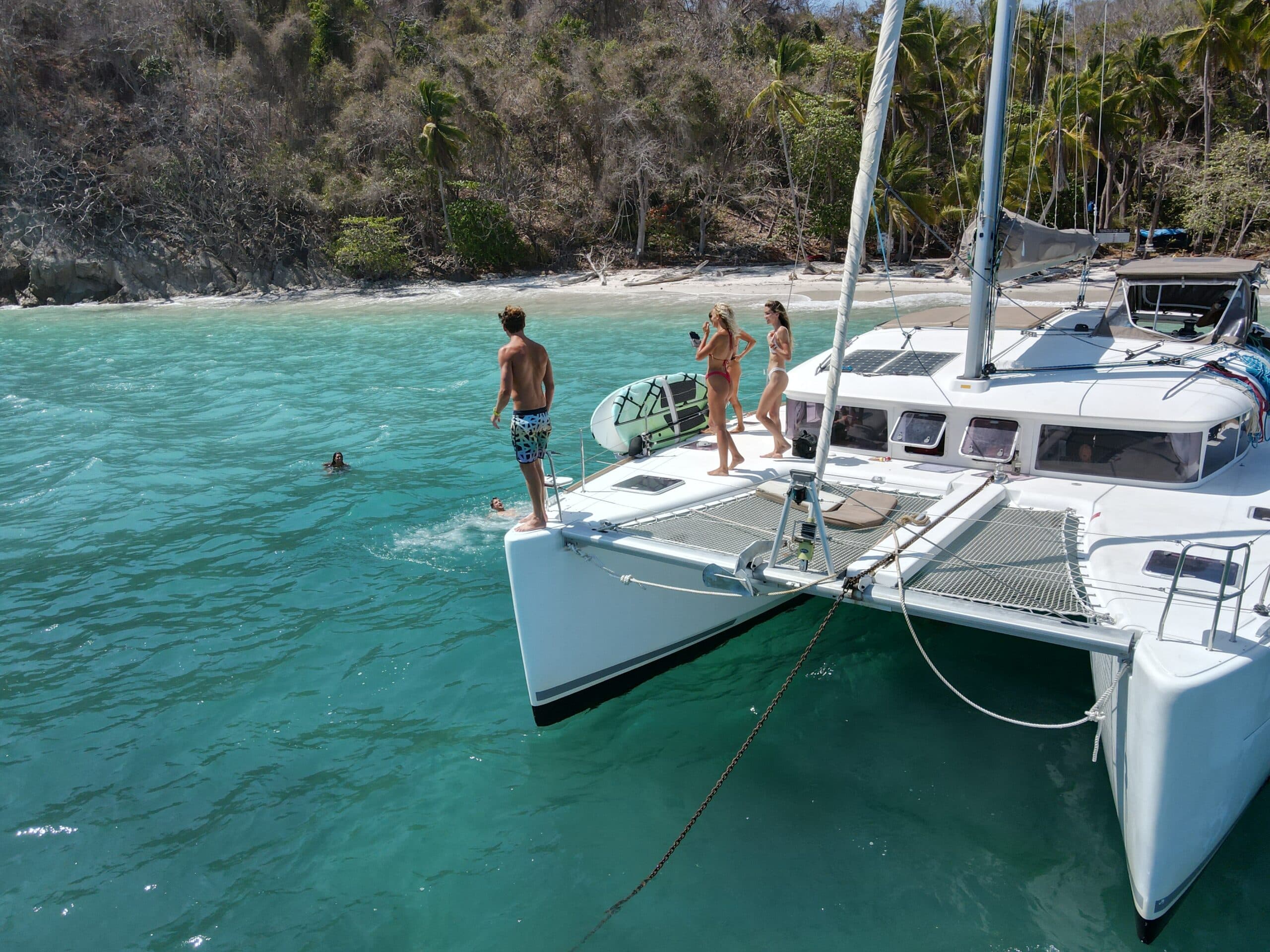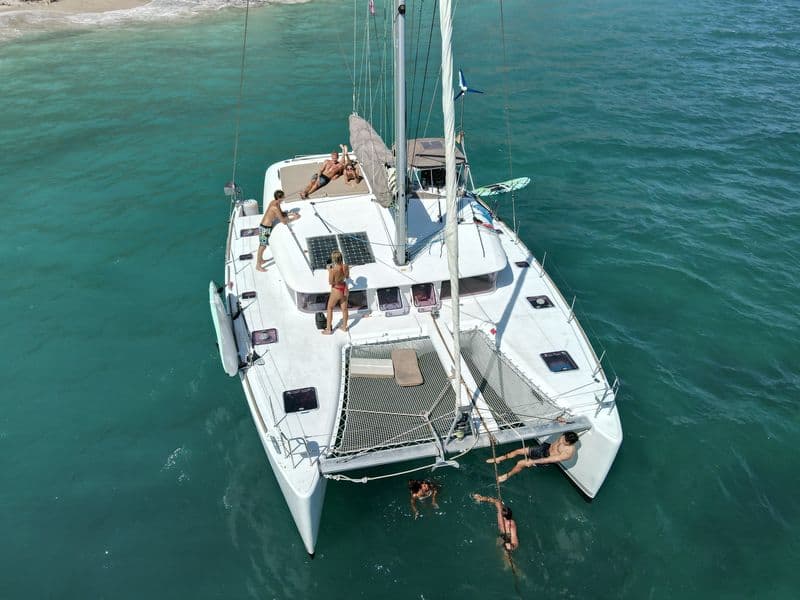 39′ Catamaran Party Boat
This party boat is docked at Los Sueños Marina right next to the fishing charter boats. The marina is approximately a 15 minute drive from Jaco beach. This open air catamaran has plenty of seating on the main level that lets you enjoy the scenery of Costa Rica instead of being inside a boat with no view, along with a second level where the captain is located. Below is a small bathroom for guest use.
There are 3 options available with this catamaran. 
1 –  A Half Day Shoreline Cruise to Secluded Beach 
2 –  A Half Day Charter to Tortuga Island
3 –  A Full Day Charter to Tortuga Island.
Half Day Shoreline Cruise to Secluded Beach.
Pick up is approximately 45 minutes prior to start time. The driver can make 1 quick stop at a grocery store if needed, but it is highly recommended to be prepared beforehand so as not to waste time. It is a good idea to eat something before leaving the house as there are just snacks on the boat. 
Once aboard, your captain will cruise around the area to some secluded beaches a few minutes to the north. Here you can party, chill out, jump into the ocean, do some snorkeling and swim up to the beach. After this take a quick trip south to see Jaco Beach from the water.
Half Day & Full Day Private Charters to Tortuga Island!
This 39′ Catamaran is the only private party boat that can offer a half day trip to Tortuga Island. It is the fastest available which can get to Tortuga Island in about 45 minutes! Also important to note that this catamaran offers some additional amenities at Tortuga Island which other boat operators do not have access to. Scroll down for more details.
EASY ACCESS
This catamaran has the easiest access as it's the only party boat that leaves from the marina (other boats leave from the bay and you need to take a small boat to get to them). This is the only party boat docked at Los Sueños Marina which makes for easy boarding, and is also equipped with a ramp that is used when arriving at Tortuga Island.
Half Day Shoreline Cruise (1pm to 6pm)
Max capacity: 35 • Up to 20 ppl (Extra person: +$75)
$1,750
/group
Half Day to Tortuga Island (1pm to 6pm)
Max capacity: 35 • Up to 10 ppl (Extra person: +$25)
$2,000
/group
Full Day to Tortuga Island (8am to 6pm)
Max capacity: 35 • Up to 20 ppl (Extra person: +$125 / $100 child)
$2,500
/group