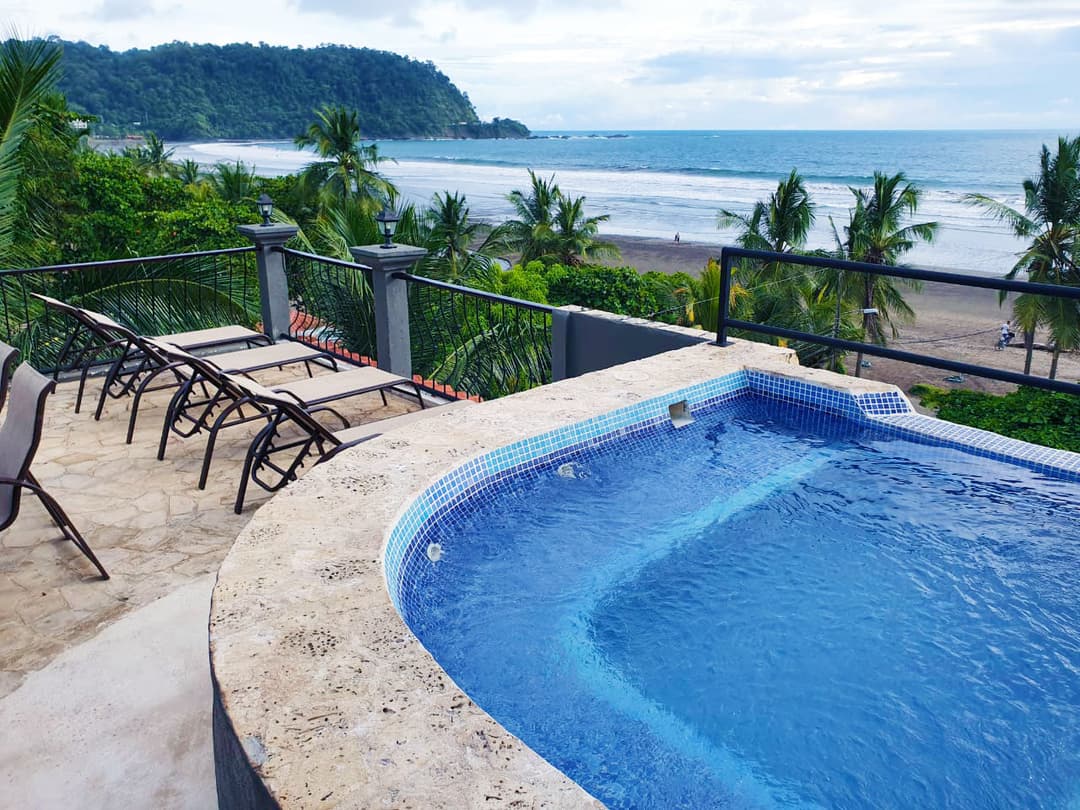 Pacific Palms
11 Bath
INCREDIBLE ROOFTOP OCEAN VIEWS
Practically Beachfront & Beautiful (just got a BIG renovation & super nice – including new artwork, mattresses & patio furniture) with 11 rooms – 11 full bathrooms(1 for each bedroom) – 13 beds – 5 stories including the roof deck. Has all the luxuries & amenities needed for your trip including a safe in every room and wifi. The swimming pool is on the ground floor with a huge jacuzzi – both are heated. Has a pool table – bar – living room with sofas – tv's – 2 kitchens and 1 large dining area (seating up to 16 + bar stools). Also has an amazing roof deck with absolutely breathtaking views of the ocean and sunset/sunrise. Roof deck has a covered bar with bar stools, coffee machine, refrigerator, tv, BBQ grill, lounge chairs, 6 person dining table along with a small dip pool facing the ocean. 
The 1st Floor is the main entrance, includes a Swimming Pool & Jacuzzi, 1 Bedroom & 1 half bath.

The 2nd Floor has 3 Bedrooms, 3 Full Bathrooms, & a Pool Table, Kitchen with Sofa/Lounge area.

The 3rd Floor has 3 Bedrooms,

3 Full Bathrooms, & the Main Kitchen Area with a Dining Table for 16.

The 4th Floor has 4 Bedrooms & 4 Full Bathrooms Including the Master.
The 5th Floor Rooftop Terrace Includes Stunning Views of Jaco Beach & the Pacific Ocean, Jacuzzi, Covered Rancho with Full Bar & Bar Stools, Lounge Chairs, Dining Table, BBQ Grill & Half Bathroom.
Green Season
May 1 – December 19

May 1 - May 31 • 4 night minimum

June 1 - December 19 • 3 night minimum
$1,500
/night
High Season
January 6 – April 30 • 4 night minimum
$1,800
/night
Peak Season
December 20 – January 5 • 7 night minimum
$1,800
/night
Disclaimer
Prices listed for up to a maximum of 16 people. For groups over 16 people (singles), add $25/person per night, up to a total maximum occupancy of 20 people. For families and mixed groups, price listed is for up to 20 people, which is max occupancy.